Canara bank is one of the largest public sector banks – 4th largest to be precise. It is owned by the government of India and is headquartered in Bengaluru. Its history of establishment goes back to more than 100 years, to 1906. Canara bank was nationalised in 1969. The bank also has its branches in London, Moscow, Dubai and Hong Kong. It has over 10,000 branches and more than 13000 ATMs to its name.
Know the Share Price of Canara Bank
How to Register to Canara Net Banking  Services – For Beginners
Step 1: Visit the official website of Canara bank.
Click here Canarabank.com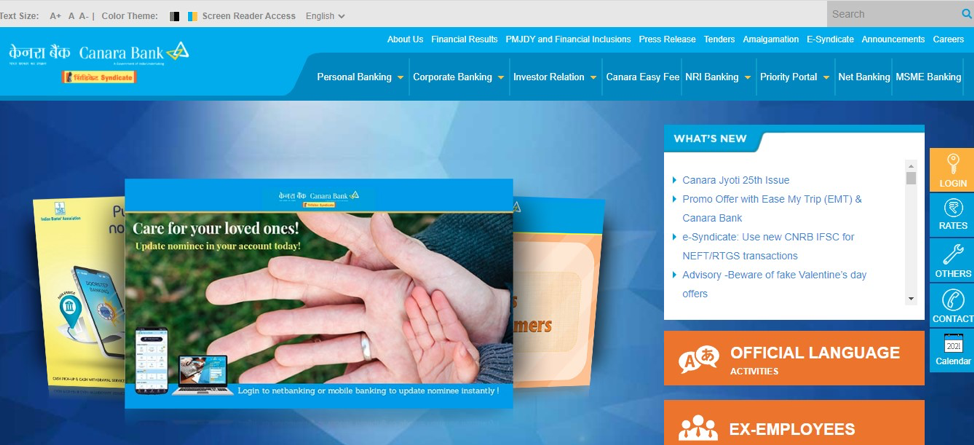 Step 2: Click on the option Net Banking on the top right corner. This will lead to another site where you can see different options for net banking: e-syndicate, retail and desktop site. Now, for registration you need to click on the Netbanking – Desktop site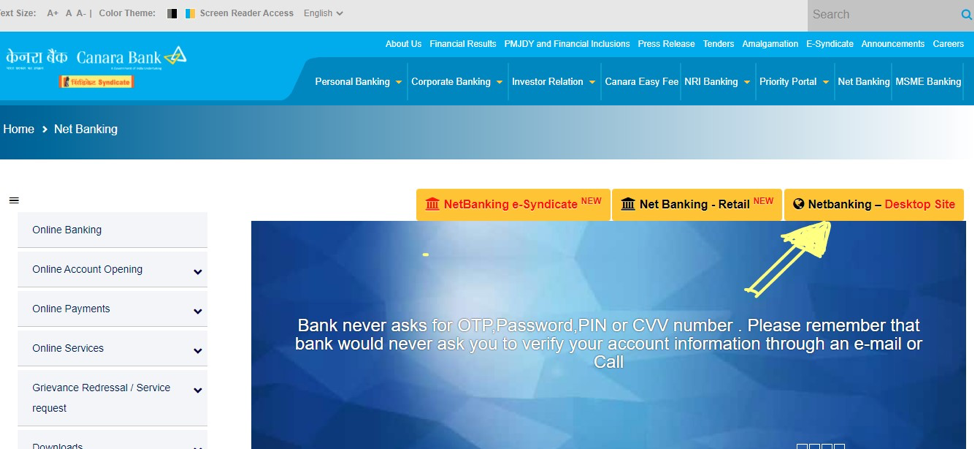 Step 3: After Step 2 you can be going into the login page of Canara net banking. Since you are a new use, press the option New Registration below the login provision.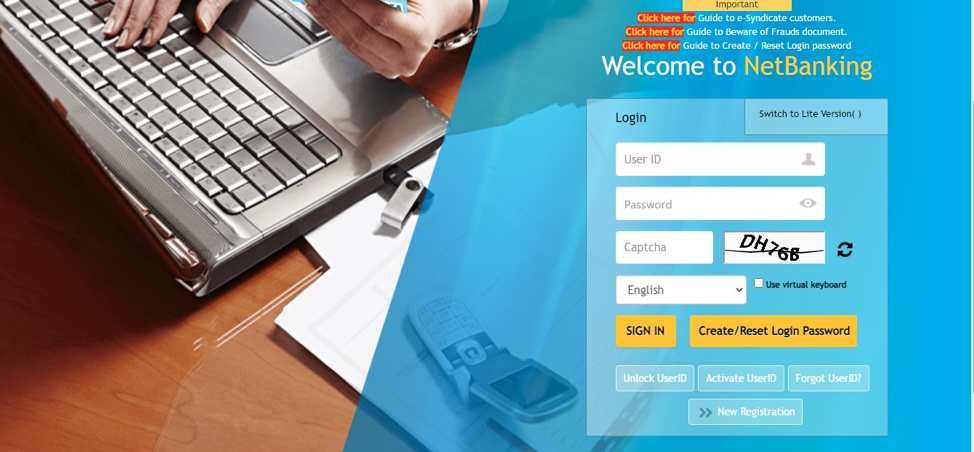 Step 4: Upon clicking it you will be directed to a new tab with Terms and Conditions. We recommend you read the entire content in first place so that you shall not have any confusion in the future.
Step 5: Once you click "I Agree" you will be directed to the application page. Here is where you shall be filling in the required details. You shall be asked to provide the following: ATM cum Debit card number, registered mobile number, and customer ID. Just in case you don't have your customer ID you shall be asked to provide one of your last five transactions in the OR option (credit or debit).
Step 6: Select the button which reads "I agree".
Step 7: Once you have agreed a OTP (One Time Password) shall be sent to your registered mobile number.
Step 8: Enter the OTP and click the Submit Button below
Step 9: Upon successful submission you will be asked to select your Login Password. Set a strong password. You shall be asked to do it twice.
Step 10: After filling in a strong password click on the Submit Action icon.
Step 11: A message of success along with your login ID will appear on the screen. This means you have got access to the online net banking services of Canara. Hurray!
Want to transfer funds from one account to another? Download Canara Bank RTGS and NEFT Forms
How to Login to Canara Net banking?
For users who already have a login Id and password. You can follow these simples steps to login in
Step 1: Visit the official page of Canara bank
Step 2: Click on the option NetBanking. You shall be directed to a website where you have 3 options of net banking.
Step 3: Click on Net banking – Desktop site for convenient viewing.
Step 4: Fill the user ID password and enter the captcha. Choose the language of your choice — Canara gives you 11 choices including Tamil, Hindi, Bengali and Gujarati. Then press the Sign In button. Now you can see your account's dashboard.
Note: For high security reasons you have the option of choosing a virtual floating keyboard wherein a keyboard, small and movable one, shall be hitched to your screen. This keyboard shall prevent your details from keyloggers and other suspicious files.
How to get your User ID?
Sometimes or even often we tend to forget our user id. It is advisable to keep the user id in a diary or in note apps on your mobile. Nevertheless, if you forget the user id, do the following
In the login page, you shall be able to see option 'Forget User ID' below. Click on it. You will be directed to a page.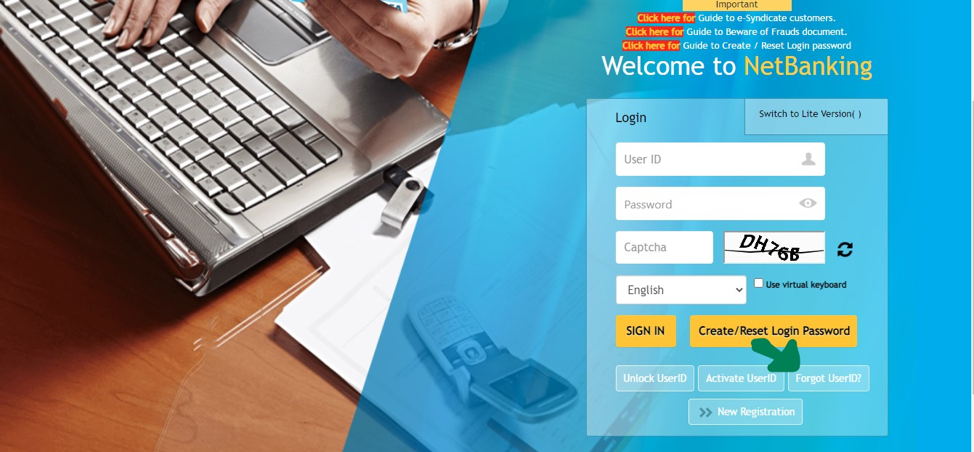 The page shall ask you for customer ID and registered mobile number. Customer ID will be available in your passbook.
Upon successful filling and submission, you can recover your user id
How to reset your forgotten password?
Step 1: Visit the login page from the official page
Step 2: In the bottom you shall be able to see an option, 'Forgot Password'. Click on it. A new tab shall open.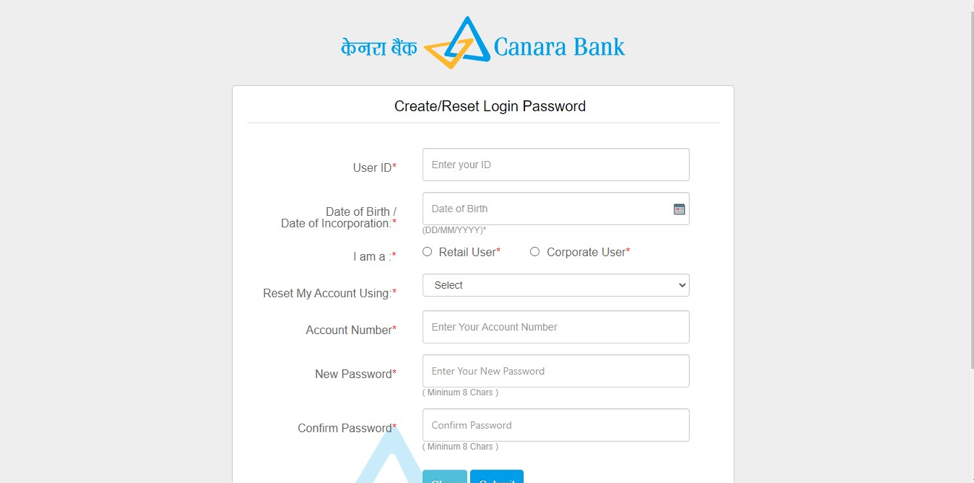 Step 3: In the new tab you should fill in a whole lot of details: user id , date of birth, account number, and type of user (retail or corporate). You will also be asked to choose one of the following valid id proofs: aadhar, pan or passport or debit card number).
Step 4: After filling the details, decide and select a strong password. You have to type the password twice. Click submit.
There you go! You've got your new password.
Special Features of Canara Bank Net Banking
Canara bank has a very robust website and server that caters to a variety of needs. Some of the features are:
Transfer funds easily: Net banking account holders can easily do fund transfers at their own convenience. They can transfer funds to their own or third party accounts using NEFT or IFSC or RTGS payment systems
Block credit or debit cards: You can block your ATM card immediately by using the net banking service
Canara Easy Fee: No need to visit colleges or ask your child for paying his/her fees. There is a better choice with Easy Fee. Simply select the state, city and college name. If the college/university is available, simply enter your ward's number and proceed to pay.
Loan account record: You shall be able to see your loan related transactions whenever you want. Every activity is recorded and the same shall be reflected with date wise details.
Tax Payment: In a busy world taking time to pay your taxes must be frustrating. Canara net banking allows you to pay tax from your place.
Simply login to your account and proceed with the type tax you want to pay. Fill the challan. Receipts will be generated.
Frequently Asked Questions (FAQs)
Who can apply for Canara Net Banking?
Anyone who has an active savings / current account (ATM card ) from Canara Bank are eligible for Net banking services
What is "User already exists error" ?
This means that you have already enrolled for Net banking and you need not do new registration. Use Get Use ID and Forgot Password options to proceed further.
Can I change User ID?
Log in and look at the menu for preference options. Your user ID can be changed there.
What is User inactive?
This means that the user has not logged on to the net banking for a while. Use the Activate user option to activate your account.
I have received a OTP without doing any transaction?
In that case do not disclose your OTP to anyone at any cost. Go to the login of Canara Bank website and change your password as soon as possible. 
How safe is Canara bank net banking?
All the communications and transactions are secured according to industry standard encryptions and security layers. Also for transactions OTP shall be sent to the registered mobile number.
Tip: Do not disclose your OTP to anyone. The bank does not call and ask for your OTP.
How can I download my account statement?
Last 6 months account activity shall be available in your account activity option. If you want statements from beyond 6 months click on the historical account statement.
Conclusion 
Canara Bank is one of the largest banks in the country. The net banking facility has enabled millions of its users to do transactions, tax and loan payment easily without going to the branch offices often.
Hope this article helped you with the login procedure. Happy and safe banking!
Also Check :