The Digital era has made human lives easier. Post demonetization, most private and public sector banks launched their internet banking portals to keep the bank's workload minimum. And the best part? These internet banking portals are not only meant for transferring funds online but also for many other features such as paying taxes, fixed deposits, etc. Let us now talk about the same in brief.
What is Net Banking?
Internet banking, well known as Net Banking, is a fully electronic service provided by banks in which customers can have access to their financial and non-financial banking products straight from their location. In the early days, customers had to go to the branch even for small transactions. However, soon after net banking came into existence, it became much convenient for the public to transfer funds and do various banking activities from their home itself. They do not require to visit an office anymore. Activities such as requesting demand drafts, transferring funds can be done via net banking. It is a very secure process and time-saving as well.
Service Available on Net Banking Portal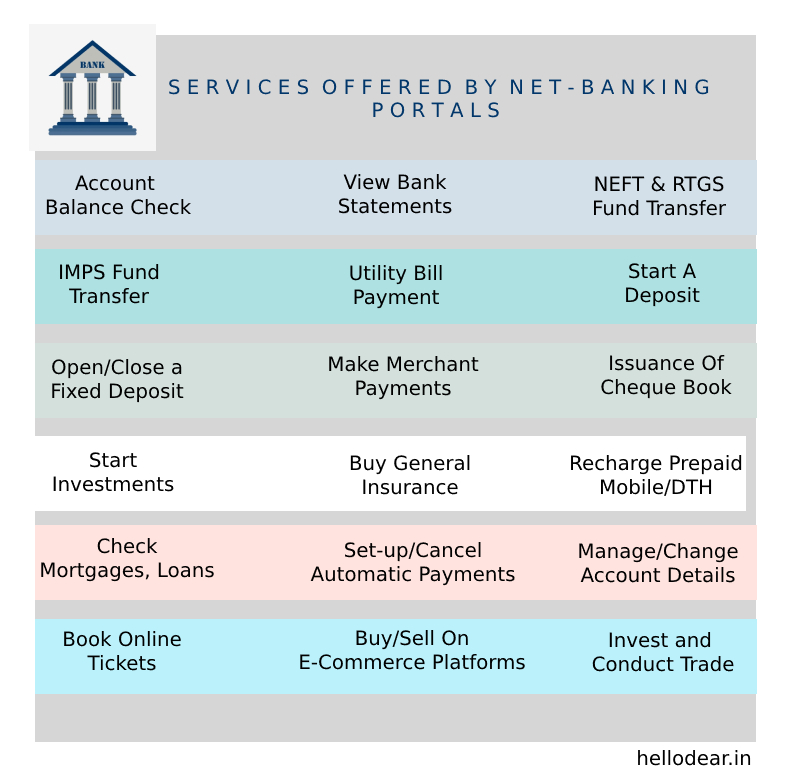 How does it work?
To understand how internet banking works, one must know the process and some mandatory process that mainly includes the registration process for enabling internet banking to your account from the bank. Here are some of the points mentioned below-
Anyone who owns an operating account at any financial institution or bank is eligible to register for internet banking.
In order to access net banking, you are required to have a personal PC or laptop or even a smartphone with a working internet connection. After the successful registration, the customer will get a customer ID and password, which will be issued by the bank via which one can access the net banking portal.
Bank Specific Net Banking Portals
Features of Internet Banking
Here are some of the significant highlights of Net Banking, which will enlighten the benefits of the same.
It is a reliable and 100% secured method of banking where the chances of theft are slightly lesser.
Net banking is secured with a password-protected banking system which prevents any banking fraud.
The accessibility of accounts can be done from anywhere and anytime.
Net Banking is easy to access for all financial and non-financial products.
You can track and manage your banking activity such as bank balance, statement, last transaction, etc.
For transferring funds, you can use RTGS, NEFT, anytime.
The process of bill payments is 100% faster than your usual offline process.
You can also keep an eye on your mortgage payment, loans, savings account, etc.
You can anytime channelize or cancel your automatic payment.
How to Register for Net Banking or E-Banking by Visiting your Branch?
If you are interested in accessing net banking straight from your account, it is essential for you to register for net banking. As most of the banks have the facility of enabling internet banking, you need to follow the steps given below-
Step 1: If you do not have an internet banking account already, you are required to submit the internet banking application form by filling it at your home branch.
Step 2: You will also be asked for some documents such as your copy of your bank passbook, Aadhar card, etc.
Step 3: The bank will go through the provided information and will issue a separate unique customer ID and password for your account to access internet banking.
Step 4: The Net Banking application form can be downloaded from your bank's official website, or you can also collect it from your home branch.
Step 5: Once you receive the credentials, you can easily log- in and access net banking.
Note- After receiving the username and password, customers must change the password issued by the bank for safety purposes. It is also advised to keep changing your password once in 3 months.
How to Register for Net Banking Online?
Other than offline registration, if you want the process to be faster, you can simply apply for net banking online from the official website of your bank. Offline registration will require you to submit the application and documents manually, whereas everything will be online in an online process, which is convenient and easier.
Note- Please note that not every bank provides you the opportunity to register for net banking online so please check this with your bank first.
Step 1: Visit your bank's official internet banking website.
Step 2: Now click on login button under the retail banking option.
Step 3: Now you need to click on a new user? Register here option and proceed.
Step 4: If you have received the customer ID and password already from the bank, you can enter and proceed. However, if not, click on next.
Step 5: You are now required to fill the self-registration form where you will be required to fill in details such as account number, email address, registered mobile number, branch code, debit card details, CIF, etc. Once done, click on submit.
Step 6: Now you need to authenticate your registration by the one-time password sent to your registered mobile number. Enter the code.
Step 7: Now your temporary customer ID and password will be shown.
Step 8: Log in using the details given. Then create a new login password after you log in to your account.
Step 9: You're done. Enjoy.
Steps for Net Banking Login – How to login to your Net Banking Portal?
Once the registration is successful, you need to follow the given steps in order to login into your net banking system.
Step 1: Visit your bank's official internet banking website. Make sure that the URL of the specific website is starting from https:// and if not, check the URL once again.
Step 2: Now, if you are a Retail User, tap on Personal Log In. If you are a Corporate User, choose Corporate Login.
Step 3: Now you need to enter your Customer ID and Password.
Step 4: Enter the captcha entry and click on Login.
Step 5: Now your net banking dashboard will be displayed on your screen.
How to Reset Net Banking Password?
If you are not good with remembering things and you have forgotten your net banking password, you need to follow the procedure given below-
Step 1: First of all, visit the bank's official net banking website.
Step 2: Now on the login page, tap on forgot login password.
Step 3 : Enter your details such as username, bank account number, mobile number, date of birth and country. Then tap on submit.
Step 4: You will be receiving an OTP on your registered mobile number.
Step 5: Now enter the OTP and tap on continue.
Step 6: Enter the new password of your choice.
Step 7: Retype for the verification of the spelling.
Step 8: Click on confirm.
Step 9: Your new password is reset now.
Types of Fund Transfers Available on Net Banking
There are in total three methods to transfer funds online from one account to another. These includes, NEFT, RTGS and IMPS. Let us know the three in brief-
NEFT
National Electronic Fund Transfer is one of the most known and widely used payment methods available for internet banking. It will let the person transfer funds from one account to another in no time. The process is time restricted, and hence, it is available 24*7 on the net banking portal. It will take more than 30 minutes for the fund to be transferred via NEFT. However, the maximum time will be 2-4 hours for the same.
RTGS
RTGS, Real Time Gross Settlement is known as the continuous settlement of funds which works on an order by order basis. It will imply the RTGS system that will ensure that your beneficiary account is credited with the funds in no time. The transactions done via RTGS are always monitored by the RBI as the minimum limit is INR 2 lakh. It is also a time-restricted service and can be accessed 24*7 via net banking.
IMPS
IMPS, Immediate Payment System, is a real time transfer of funds. It is a method that is used commonly for transferring funds instantly in no time. One can transfer funds from any bank to any other bank across India through ATM, mobile. Even with your mobile number, one can transfer the funds quickly.
How to transfer Funds via Online Net Banking?
The process of transferring funds is not a time taking process. However, it can be a headache for someone who has not done it till now. Hence, we are here with the step by step guide to brief you on how to transfer funds online via net banking.
Step 1: You are required to use your customer ID and password to log in into your desired bank's official net banking portal.
Step 2: Now you need to click on transfer funds option and then hover on the method of transfer from the given options- NEFT, RTGS, IMPS. If you are tapping on NEFT, you need to make sure that the beneficiary bank is NEFT enabled.
Step 3: Now choose the beneficiary. If you haven't added the beneficiary, tap on add beneficiary. You need to enter the beneficiary name, IFSC code, account number and bank branch name. Then click on submit and save and add the beneficiary to your list.
Step 4: Now enter the amount you want to transfer.
Step 5: Authenticate the process of entering the OTP, which is sent to your mobile number.
Step 6: Now click confirm and send. The money will get transferred to the beneficiary account.
How to make credit card bill payments via net banking?
Net banking is the most easiest, safest, and convenient way of transferring funds from one account to another. You can also pay your credit card bills from the same and there will be no additional fee like any service charge or transaction fee for making any bill payments through internet banking. It is also embedded with extra security measures in order to make the transaction secured. We are sharing the process through which you can make credit card payments via net banking-
Step 1: Log in to your credit card provider's website.
Step 2: Then click on Pay on credit card bill option. Tap there.
Step 3: Now enter your credit card details such as your email address, credit card number, payment amount.
Step 4: Now you will get redirected to the payments gateway. Choose the net banking option and then select the bank account from which you wish to make the payment.
Step 5: Now on your screen, you will be redirected to your bank's payment interface.
Step 6: Now you need to enter yourcustomer ID and password. Then you need to authenticate the transaction after entering the one-time password received on your mobile number.
Step 7: Click confirm. Your bank will be debit the amount from your account and you will receive a confirmation message on your mobile number and email address.
Advantages of Net Banking
We are listing down the advantages of net banking which is available for all the users-
Availability- If you go through the services of net banking, you will find out that all the services are time restricted. However, the net banking customer care is always available to serve you better. And hence, you can access your banking service at any time from anywhere. All you need to do is to tap on net banking portal and login. You are no longer required to visit the bank to access the banking service.
Easy to use- All the financial transactions like bill payments, recharges, fund transfer can be done by using net banking. It will not take more than 2 minutes to process any payment as net banking has made it convenient for everyone. You can perform it anytime.
More organized- If you do not want to visit your bank every day but want to keep an eye on your bank statement, you can do it from your home as net banking has made it pretty clean for the users. Be it transferring funds online or checking up on your bank statement; everything can be done from the website itself.
It is secured- You do not have to worry on safety of your bank account as the bank system is fully secured and safe for anyone to use. Most of the bank's net banking platform uses two-factor authentication which enables the security of your account.
Access to many services- Apart from transferring funds from one account to other, you can also use the website for some non-financial services such as requesting demand draft, checking balance, applying for personal loan, issuance of cheque book, open FD/RD deposits, manage the trading account, tax payment, check mortgaged, etc.
FAQs
How can we access the internet banking?
Any individual who has an account in any bank or financial instituition can first register themselves for the internet banking, download the form from the official website of your bank and submit the documents for the same.
Can I change my internet banking password?
Yes, you are allowed to change your net banking password according to your convenience. However, you must ensure that you are using different characters while making a password and you must change your password in every 3 months which is for the safety of your account.
What safety measures should I take while accessing net banking?
There are plenty of things you must take care of. We are sharing some here-
Do not use public Wi-Fi while logging in to your account.
Always go for legit anti virus software.
Keep changing your password often.
Do not open your net banking account on any public PC.
You must make sure that the OS of your smartphone is updated.
Do not share your password with someone.
What is user ID in net banking and can I change it?
User ID is like a name which will be a separate ID for each account. It will identity your account and will differentiate from others. You will get the username ID from the bank itself. However, if you don't you need to apply for net banking by filling and submitting the form. After the verification process, you will get the credentials via which you can log in. Also, you can not change your user ID given to you by yourself.
Is internet banking safe?
Yes, net banking is something everyone is using for their ease nowadays. It is 100% safe, secured and reliable. You do not need to worry at all. All you need to do is to take safety measures while availing the service