Syndicate Bank is one of the leading commercial banks in India. Founded in 1925, the bank initially launched as a Canara Industrial and Banking Syndicate Limited. In 1969, it got nationalised by the Government of India. The bank offers many financial and banking services such as mobile banking, internet banking, ATM, saving/current account.
Anyone associated with the bank must read this article till the last as we are sharing all the valid information of Syndicate bank such as login process, registration, features and much more.
Initially it was hard to manage everything straight from the branch and hence the bank introduced the internet banking facility for the loyal account holders of the bank. With the facility, any customer can avail any facility anytime remotely. 
There will be no requirement to visit the bank anymore after availing internet banking from the bank. One can check the balance straight from their own house. And to avail the facility of internet banking, one has to go through the process of registration and even for that there is no need to visit the bank. It can be done online via the net banking portal of the bank.
Syndicate Bank Net Banking Registration Online
Visit the website of Syndicate Bank Internet Banking Login Page HERE
Tap on new user? Register option available in right side.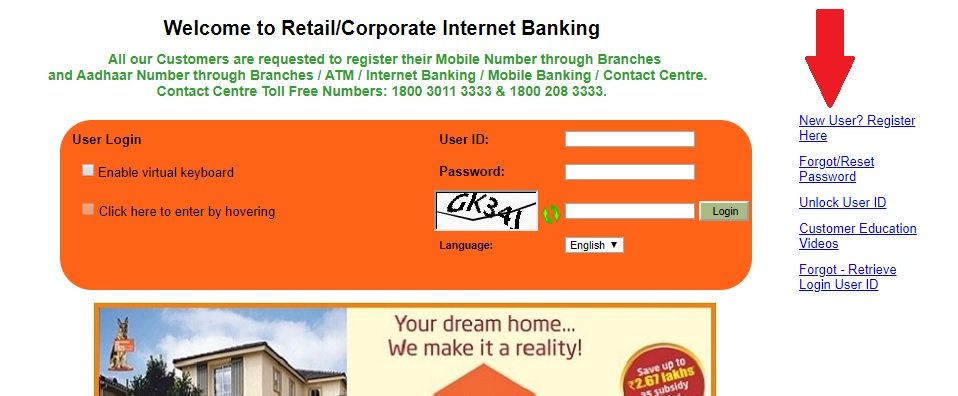 You will be redirected to the Terms and Conditions page. Read the details and click on I Agree.
After clicking agree to the terms and conditions, enter your Account Number and Email ID details and tap on Validate. 


Enter the OTP you receive and tap on Submit.
Now enter the details like your Customer ID and Date of Birth, Security Code, Last Debit Card Number and click on Next.

Select Generate Login and transaction password and SMS based OTP.

You will get a password.

Use the password and log in to the account.
How to login into Syndicate bank net banking login page?
After completing the steps given above, you need to login into your Syndicate bank account by the below mentioned steps-
Visit the official Syndicate bank international banking login page.

Enter the details to login.
By following the steps, you can login into your Syndicate net banking account. For a better security, always update your PC with the antivirus and never use your credentials to any public PC.
You must make sure to keep your password updated in every 3 months and use characters and special characters to create your password. 
How to reset forgotten password in Syndicate bank internet banking?
To login your account after tapping on forgot password, you need to continue with the process shown in your PC of the portal.
Default transfer limit for customer
NEFT- 100000 INR
Fund transfer own account-100000 INR
Third party transfer- 100000 INR
Features of Syndicate bank Internet Banking
Fund transfer- Any account holder can transfer funds to their own account or to any third party bank account via IMPS or NEFT service. There is no need to visit to the bank for it.

View account statement- For viewing the account statement, you can open the net banking account and monitor all the transactions.

Block debit card- If your debit card is stolen or lost somewhere, you can immediately use your internet banking account and block your card. 

Investment- You can start the fixed deposit and recurring deposit from their online banking account.

Request new cheque book- If your old cheque book is stolen or is filled, you can request for the new cheque book online via the Syndicate bank net banking account. 

Bill payment online- You can pay the electricity and water bill and any recharge of DTH from your online banking facility.
How to add beneficiary account in Syndicate bank online banking?
Syndicate bank will allow their customers to transfer the funds online via RTGS & NEFT services. To transfer the funds online, the account holder must add an intra bank beneficiary account and for the same, follow the simple steps mentioned below-
Visit to the official website of the bank.

Use your login details.

Login in to the account and click to payment and transfer TAB in main menu.

Select the bank name and choose the add payee option.

You have to enter the details of beneficiary account including account name, number, bank name, branch name, IFSC code and transfer limit.

Accept the terms and conditions.

Enter the OTP and enter it.
The beneficiary account will get added in 1 hour. After it, you can transfer the funds to the account.
How to transfer funds from Syndicate bank internet banking portal?
The bank allows its users to transfer the funds from one bank to another anytime they want to. But to avail it, user must follow the steps given below.
Go to the official website of Syndicate bank net banking.

Use your login details.

Click on fund transfer.

Add the beneficiary details to the account.

Enter the amount you want to transfer.

Click on submit.
Syndicate Bank Net Banking Customer Care
If you have any query or complaint against the bank, you can reach to their customer care at the given number anytime. The helpline is open 24*7 for the customers.
1800 3011 3333
FAQ
Who can apply for internet banking?
Anyone who own a saving/current/loan account in the Syndicate bank can apply for the internet banking facility.
What are the charges for internet banking?
Currently, there is no charges for the net banking facility.
Can I access my account from multiple PC?
Yes, there is no restrictions from the bank to use your account from any PC. However, avoid using public PC for using your net banking.
How to login into my Syndicate bank online banking?
To login your Syndicate bank online banking, you are only require to use your ID and password you have made and use it for login into your account.
Conclusion
Syndicate bank is one of the biggest private bank in India. The bank has many branches and is delivering their services to more than 1 lakh customers in the country. The bank already has many branches in both cities and towns. 
Syndicate bank started internet banking facility long ago. They have now many customers already enjoying the services given by the bank by availing internet banking. Anyone who is still interested in their online banking services can fill the form by the steps mentioned in this article and enjoy the unlimited features of Syndicate bank internet banking. 
Internet banking has become an important feature everyone must opt for. It makes your life easier by providing convenience of transferring funds from anywhere and everywhere. The service is used by many people and it is now offered by mostly all the leading banks.
In this article, we had discussed about Syndicate bank and its net banking feature in brief where we have guided you with all the possible aspects and features of Syndicate bank net banking and how one can avail it. If you are also a Syndicate bank customer, you must opt for internet banking and there is no extra charges required for it. You can see the guide given above for your reference and to know how to avail net banking from Syndicate bank without any charges and hassle.
Also Check